Below we will explain how to buy a product by taking advantage of a loan with Sella Personal Credit, Soisy or Findomestic.
STEP 1
When choosing the products, first check that in the product sheet of the item you have chosen, the financing possibilities such as Findomestic, Sella Personal Credit or Soisy are active (not all products are enabled for all financing possibilities).
Choose the product to buy by clicking on the 'Add to cart' button and then click on 'Checkout'.
For the requirements necessary in order to obtain a loan, read the FAQ: What are the requirements for obtaining a loan?
STEP 2
Within the order completion area called 'Payment method' choose one of the available financing options *. Once the financing option has been chosen
You will be sent to a page where you will have to fill in the required fields, keep your identity card handy
You will receive the result by e-mail, in case of "Approved Financing" you will receive a second e-mail containing the required documentation as listed in Step 3.
* N.B.
With Findomestic and Sella Personal Credit financing it is possible to pay an advance (when completing the order, and finance the remaining part. See the following image: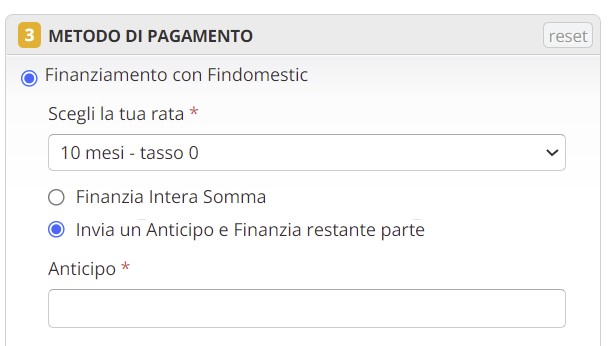 STEP 3
If the funding request is approved, the finance company will usually ask for the documents listed below that I should send through their website, or by email. The documents required are generally the following:
copy of the front and back health card
copy of domestic user in the last two months
copy of a valid identity document on the front and back
copy of pay slip or pension slip or single model
N.B. the financial institution may require other documents not listed
STEP 4
Usually, the chosen financial company, within 24/48 hours of sending all the required documents, will send both the customer and MusicalStore2005 the authorization 'Goods delivery authorization'.
Musicalstore2005 will provide as soon as possible the delivery of the products based on the delivery date indicated during the purchase phase.
For an overview of delivery times see this FAQ: What are the delivery times and shipping costs?